Copyright Olidan Search Partners Inc. 2011. All rights reserved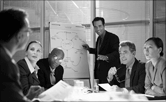 THE OLIDAN
PROMISE
Confidentiality, Ethics and Professionalism are our Olidan Promise.
We are committed to representing all clients and potential clients with the highest level of professionalism and respect, so that their reputation is never in jeopardy. All confidential information relating to the job assignment will be handled accordingly at the discretion of the client.
We believe that every candidate should develop a trusting relationship with a search professional, whether they are just starting out in their career, or a seasoned professional. At Olidan Search Partners, our consultants will take the time not only to listen to your past, but also to understand where you would like to go.
Olidan Search Partners Inc. is committed to providing the most effective and efficient service possible. We believe that the only way to succeed is to take a consultative approach to our search assignments. Allow Olidan Search Partners Inc. to understand the search requirements and the culture of the client's company, thoroughly, which will enable us to successfully search out the most suitable candidates.

I have had the great pleasure of using Olidan Search Partners Inc., both as a candidate and as an employer. As a candidate I was very impressed with the way the role was outlined and. . . more